Item Description: Motion Sickness Pills used on D-Day
Introduction: Just prior to boarding the C-47's Sky Trains that took the paratroopers of the 101st to their objectives in Normandy, the medics, under orders from the Regimental Surgeons, issued air sickness pills to them. These pills had a lot of unwanted side effects.
The Story: Never during paratrooper training in the United States or prior to jumps in England where these "Motion Sickness Preventive" pills issued to the paratroopers. The D-Day jump, the 101st's Baptism of Fire, would be the first time. And the last time. The pills had varying side effects a soldier under fire can do without.
These are accounts of said effects that we have found in the books:
1) "We were given 2 pills against motion sickness, one around 22:00 and then another one while in the aircraft. The idea being to do away with air sickness and the butterflies in your stomach when you're scared. These pills where devastating, they were drugging you ...it was a very powerful drug that had various effects on us. [...] I was seated at the back in the aircraft, pretty far on the right inside I remember. It was dark and those pills seemed to make us sleepy and dizzy, although that night I couldn't fall asleep, I just had to stay awake."
Forest Guth, "E"-Co./506th Parachute Infantry Regiment in Michel Detrez's WWII Paratrooper Portrait Series, Page 35.

2) "The anti-airsickness pills they made us take, not only got us excited but made us nauseous and terrified. I don't recall the jump too much."
Walter Gordon, "E"-Co./506th Parachute Infantry Regiment in Michel Detrez's WWII Paratrooper Portrait Series, Page 50.

3) "Drowsiness was explained by T/5 Hugh Pritchard: 'Before takeoff, we had each been given two anti-motion sickness pills to take. Mine had made me drowsy and I went to sleep in the plane.' [...]
'Usually on these rides everybody goes to sleep and tonight I had to fight the desire' Lieutenant Richard Winters remembered. 'I had to stay awake so I'' be able to think and react quickly. But those pills seemed to slow down feelings of emotion."
George Koskimaki's D-Day with the Screaming Eagles, Page 44

4) "Unusual behavior in unfriendly environments was recalled by troopers who hinted that it might possibly have been the result of the Dramamine pills."
George Koskimaki's D-Day with the Screaming Eagles, Page 72

5) "We had taken those airsickness pills and when I tried to call him, my mouth was so dry and my tongue was so thick that not a sound came out. I couldn't talk!'
Lieutenant Jim Allen in George Koskimaki's D-Day with the Screaming Eagles, Page 72

6) "The same drowsiness that affected the men in the planes and caused many of them to sleep until just before receiving the red warning light returned to some of them a short time after they landed. Some commanders remembered that men fell asleep on their feet-even though soaking wet, and cold.' [...]
PFC George Doxzen had taken two anti-motion sickness pills and slept during the entire trip. The others had to wake him for the jump preparations. [...] Hatch put me on outpost duty and I immediately fell asleep. The outfit moved out while I slept. It was those damned pills."
George Koskimaki's D-Day with the Screaming Eagles, Page 73

7) "In addition to the exhortations, the jumpmasters passed around air-sickness pills. Who thought of the pills as a mystery; why they were passed around an even greater mystery, as airsickness had seldom been a problem."
Stephen E. Ambrose's Band of Brothers, Page 66.

8) "Most of the men were asleep, or nearly so, a consequence of the airsickness pills."
Stephen E. Ambrose's Band of Brothers, Page 67.
9) Glider-troops in the 82nd Airborne Division apparently were issued these pills too:
"As the fighting raged at the La Fiere Causeway, Private First Class Lewis Strandburg, with company E, 401st, was asleep in the Horsa glider carrying him to Normandy. 'The trip across the English Channel was quite smooth. We had been given two motion sickness preventative pills before taking off, so most of us slept for a good bit of the crossing.'."
Phil Nordyke's "All American, All the Way. The Combat History of the 82nd Airborne Division in World War II", page 300.
10) On Monday July 2nd 2007, Battledetective Tom interviewed Tech Sgt. Lud Labudka of "E"-Co./502nd.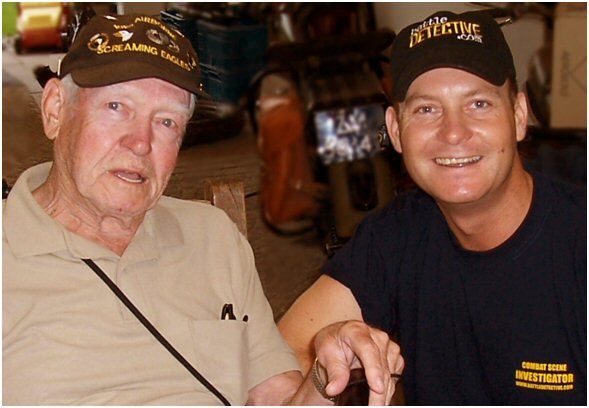 (Tech Sgt. Lud Labudka of Easy Company, 502nd Parachute Infantry Regiment and Battle Detective Tom)
Asked what he could tell about the pills that where issued just before the D-Day jump, Lud said:
"I may have been given these pills but I would have thrown them away. See, during all the jumps during paratrooper training we where never given air sickness pills. I had my 13th jump on my 21st Birthday. That was in England prior to D-Day. I never take pills. I won't even take painkillers today. I did drink Aqua Velva though on the flight to Normandy on D-day. Someone on my stick handed me a bottle and I took a swig. It made me sick!"
(For the complete Aqua Velva story, please read Para Research Team Don's report.)
11) After reading this article, Ken McAuliffe, nephew of the famous General Anthony C. McAuliffe, sent this e-mail on the 15th of January 2008:
"Tom,

Here is a contribution to your Battle Relic #7.
This is a portion of a letter General McAuliffe wrote to his wife on September 26, 1944.
Starrett was Lt. Fred Starrett, his aide. I included more than just the air sickness pills.
Thought it would be interesting to you.

Ken McAuliffe"
This is the portion of the letter Ken referred to:
"Darling:

I guess you know we are somewhere in Holland and doing O.K., though we have had and are having some hard fighting. [...] I brought in the glider echelon this time, hundreds of them. It was something I had wanted to do. The flak was nerve-wracking. Got holes thru my jeep and my tug plane had its right engine shot out 10 miles from the drop zone. The pilot, Col. Bill Whitaker, bravely decided to tow me in anyway, rather than drop me by myself in enemy territory. I hear Bill landed safely. It was a memorable experience, flying the channel, swinging at the end of a rope.
I had anti-seasick pills, but didn't take them. Gave them to Starrett, who took three at once and went out of his head. He had to be knocked out and went to hospital when we got there. He got out the next day, face all marked up and minus all equipment. I lost my bedding roll with all personal equipment, but fortunately, I sent my rubber mattress seaborne. I'm in tough shape for clothes.
We have had a battle every day and have won them all. Some were close shaves. I won one that was greater than Carentan."

General McAuliffe, acting division commander of the 101st Airborne Division, became a legend because of his remarkable reply to a German surrender demand during the Battle of the Bulge in December 1944. A simple 'nuts' was all the German negotiators got for an answer.
(click on the images to enlarge)
General McAuliffe geared Ken McAuliffe wearing a T-shirt
up for his glider ride into embroidered with the word
Holland that made his uncle famous
12) A recent publication of experiences with the "Motion Sickness Preventive" pills can be found in the book "Tonight we die as men, The untold story if Third Battalion 506 Parachute Regiment from Toccoa to D-Day", by Ian Gardner and Roger Day, published in 2009:
'
Dr "Barney" Ryan was manifested on the no. 2 aircraft with Maj Grant and recalls:
"I realized I'd left the airsickness tablets in my tent and rushed back to get them. I scooped some pills off the table and when I reached the aircraft gave them to the men. After putting them in their mouths they spluttered, "What the hell are you trying to do to us – these are salt pills!" Luckily nobody got airsick.
[...]
Hank DiCarlo suffered terribly from airsickness. His colleagues Donald Zahn and Frank Padisak had never been airsick and generously gave him their capsules. "I had no idea just how drowsy those things would make me feel," recalls Hank. "Because of my normal laid back demeanor many of my friends thought I was just being cool, but in actual fact I was fighting to keep my eyes open and stay awake!"

13) On Monday June 10th 2013, US Army veteran of World War II James "Pee Wee" Martin, who served in "G" Company of the 506th Parachute Infantry Regiment, explained to us that although the motion sickness preventive tablets had been issued to paratroopers in his unit, he had not taken any. "
I would not let anything interfere with my mind", Martin said.
His company commander, upon hearing that air sickness tablets were being distributed, scooped a handful of pills from a container and boarded his C-47 bound for Normandy in the night of June 5 to 6, 1944.
On board the Captain discovered that it were salt tablets he had taken into combat.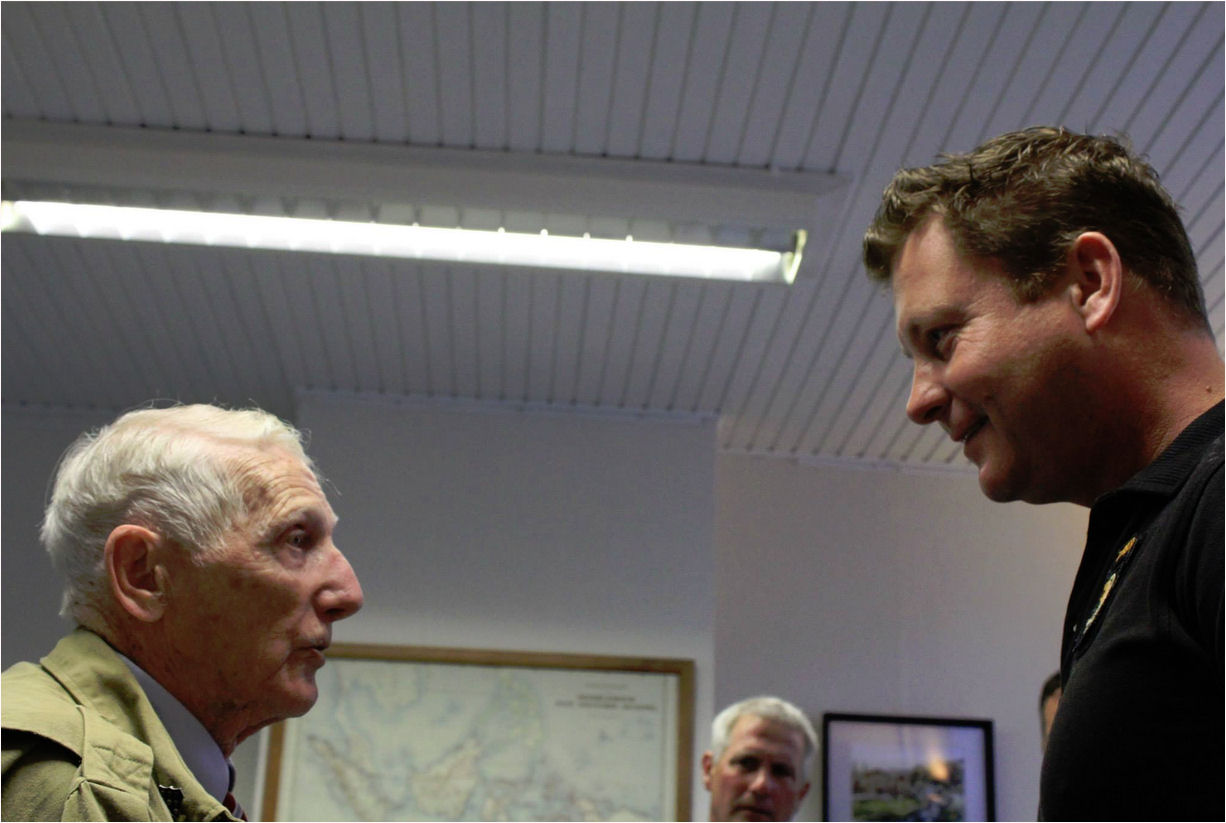 (James "Pee Wee" Martin of George Company, 506th Parachute Infantry Regiment and Battle Detective Tom)

14) The next description of the effects of the experimental air sickness pills is rather an update to account 11).
In their excellent book "orange is the color of the day authors Peter Hendrikx and Michel DeTrez wrote:

"After making sure things were going according to plan, McAuliffe and his party continue their ride along the southern edge of the landing zone. Besides his driver and two MP bodyguards, McAuliffe's aide-de-camp, 1st Lt. Frederic D. Starrett is also in the jeep.
Starrett's facial expression reflects his upset stomach due to an overdose of anti-seasick pills. Starrett was feeling so knocked out that he was sent for the hospital for the night.
The next day, during the German counter attack on the Bailey Bridge at Son, the general's jeep was pushed into the Wilhelmina Canal by a German patrol when Lt. Starrett left it unattended while assessing the area."
"Orange is the Color of the Day, Pictorial history of the 101st Airborne Division during the liberation of Holland"
by Peter Hendrikx & Michel DeTrez, 2012 D-Day Paratroopers Historical Center Publishing, ISBN 978-2-9540297-1-9, Page 60 & 61
Click to enlarge:





(facial expressions of Brigadier General McAuliffe's aide-de-camp 1LT Starrett)

There is a lot of controversy surrounding the actual purpose of the issuing of these pills and also about their content. There are rumors suggesting that these pills where given under a false pretext and where meant to reduce fear.
Enough reasons for us to investigate the story behind these pills.
Investigation: In the 4th account, Koskimaki, out of nowhere, mentions the brand name Dramamine. Dramamine is an over-the-counter anti motion sickness medicine. The scientific name is Dimenhydrate (2-benzhydryloxy-N,N-dimethyl-ethanamine; 8-chloro-1,3-dimethyl-7H-purine-2,6-dione) and the formula is C24H28CIN5O3.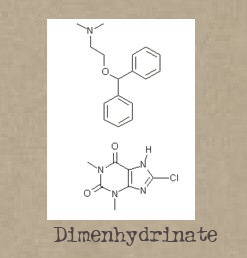 In general, Dramamine is known to have some of the side effects as described above.
Battledetective.com owns a box of World War Two vintage US Army Motion Sickness Preventive pills. The tablets are still individually wrapped in cellophane. We are now inventorying the possibilities of analyzing the contents of the tablets.
From the following sources, we conclude that these are the exact same tablets as used on the night before D-Day:

1) Michel Detrez's book At the Point of No Return, page 165
2) Michel Detrez's book The Way We Were, Cpl. Forrest Guth, page 35
Motion Sickness Preventive pills featured in Modern Packaging Magazine
The development of the pills and, in more detail, the packaging, were described in an article in the September 1944 issue of Modern Packaging Magazine.
We received this article from a member of an online forum for U.S. militaria collectors.
About the history of the tablets, the article tells us: "After intensive research and months of tests, the Army Medical Department early this year approved a motion sickness preventive. This remedy is for distribution to armed forces as an aid in preventing seasickness and airsickness. After the war it should be a valuable aid to sea and air travelers. The medicine is produced in tablet form and is now being manufactured by Eli Lilly and Co."
This is the complete article:
(click on the image to enlarge)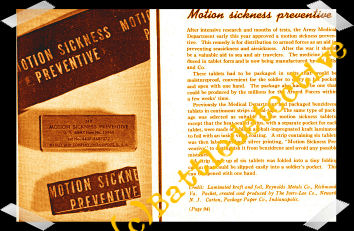 Fatal Poisoning from Motion Sickness Preventive
We found an article published in the Journal of the American Medical Association, dated July 20, 1946, Vol. 131, pages 971 and 972, titled "Fatal Poisoning from Motion Sickness Preventive". (For the full article, click here )
In this article the authors, Colonel F.H. Foucar and Captains B.S. Gordon and S. Kaye describe a case of three "general prisoners in the stockade of a ship returning from England". One of them was found dead and the others were sufficiently narcotized to require hospitalization. They had taken motion sickness preventive pills for the intoxicating effect of them. Judging from the date the article was published and the fact that the ship was returning from England, it is our working hypothesis, that the incident involved military personnel and that it happened during the end of World War Two in either 1944 or 1945.

The tablets were found to contain the following chemicals:
1 grain (60 mg.) Sodium Amytal
1/300 grain (0.2 mg.) Scopolamine Hydrobromide
1/400 grain (0,15 mg.) Atropine Sulfate

An autopsy was performed on the body of the man who died from the pills. He was believed to have taken at least six pills. One of the surviving men, whose symptoms had cleared up within 24 hours, stated that he had taken six tablets.
The authors concluded in their summary that: "A man died from an overdose of sodium amytal contained in a new preparation known, at present, as "Motion Sickness Preventive, Army Development Type". Improper, ungovernable use of this product may augment the increasing number of fatalities incident to barbiturate poisonings."

Forensic toxicological lab analysis
We have found Professor Doctor Donald R.A. Uges, a reputed forensic toxicologist from the University of Groningen willing to analyze one of our tablets.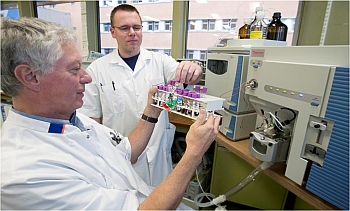 Professor Doctor Donald Uges (left)
Photo credit: University of Groningen, The Netherlands

On October 3rd 2007, we sent one tablet from our, until so far, unopened box of Motion Sickness Preventive to the University Medical Center Groningen. We included the article from the Journal of the American Medical Association and an unopened tube of over-the-counter modern-day Dramamine pills manufactured in the U.S.A. to the Professor. This was to provide reference material for a substance which is designated as such.

(click on the images to enlarge)
On Thursday October 11th 2007 at 16.30 hours, Professor Uges reported the results of his test to us by telephone.This is an account of the telephone conversation.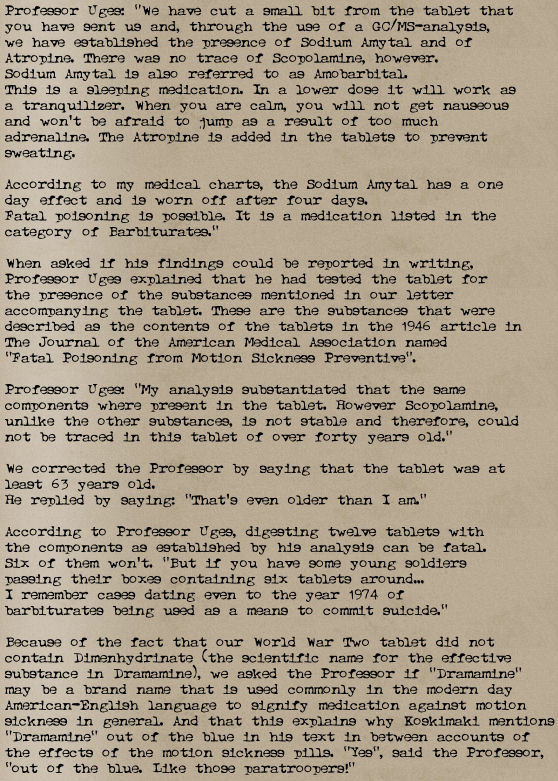 The phone conversation ended at 16.42 hours.

The lab test is listed as a publication of the Netherlands Association of Clinical-Pharmaceutical Analysts in Hospital Pharmacies on their website:
(click to enlarge)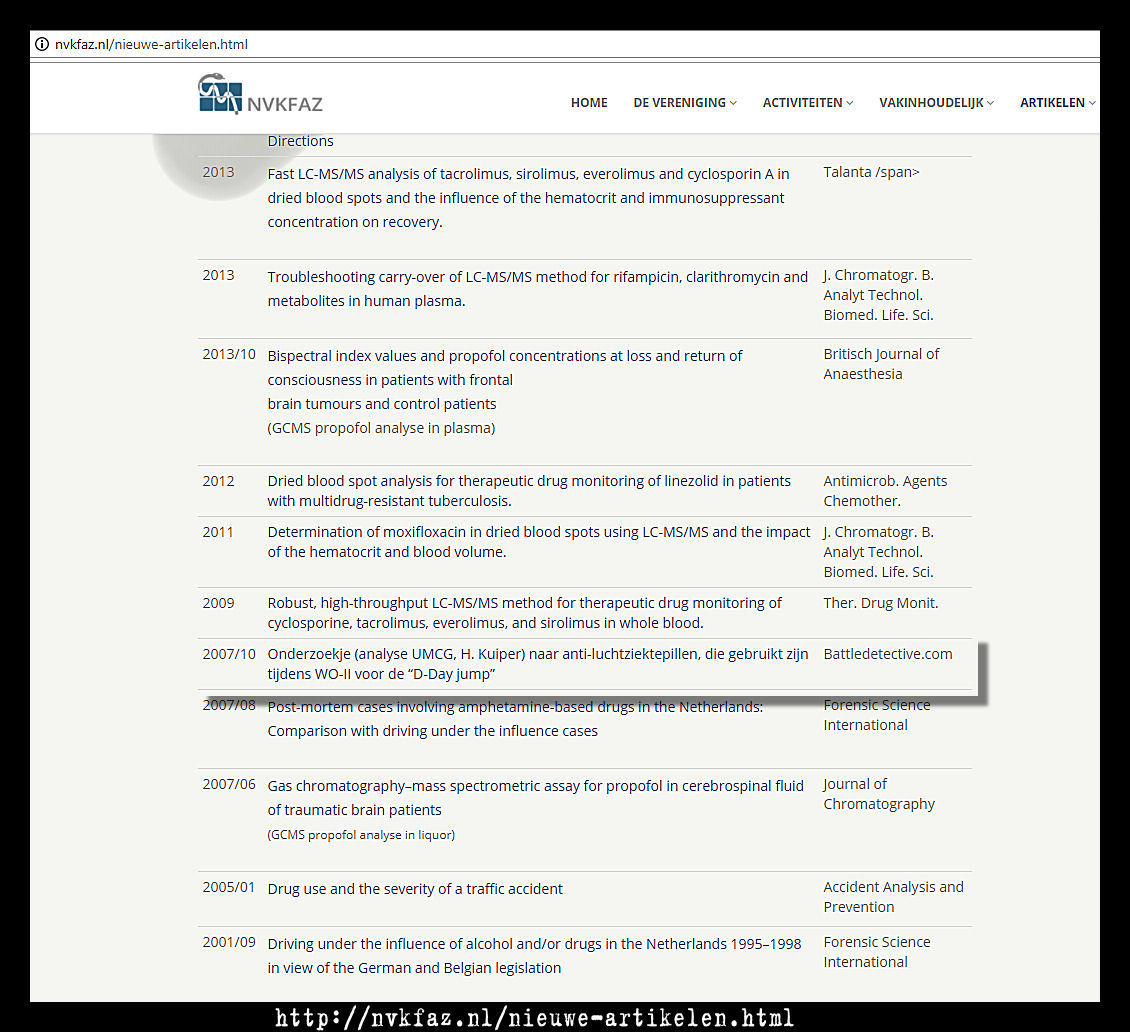 '2007/10 Test (analysis UMCG - University Medical Center Groningen- H. Kuiper)
of anti-airsickness pills, used during World War II for the "D-Day jump" Battledetective.com'
Enquiry to the manufacturer
We wrote to the Eli Lilly and Company in Indianapolis, Indiana, the producers of the Motion Sickness Preventive.
We asked them what they can tell us about the contents of the tablets and if the amounts of each component were altered during World War Two.
We also asked if any research was done by this company before issuing the medication to the US Army.
Our first letter was mailed on October 10th, 2007.
Over the following years our frequent reminder letters remained unanswered until
December 14th, 2010 when we received the following letter:

Eli Lilly and Company
Lilly Corporate Center
Indianapolis, Indiana 46285 U.S.A.
Phone 317 276 2000
December 6, 2010

Mr. Tom

Dear Mr.

We are sorry that it has taken us so long to respond to your letter. Your request has only recently found its way to the correct location for response. It has also taken some time to try and locate information from 70 years ago. Very little exits, but we did try our best to find the answers.
Eli Lilly and Company did indeed provide several products to the United States Armed Forces for use in World War II. Included for certain were some very important life-saving antibiotics and other products. Most of these were provided to the government after complying with strict directions from the government about ingredients, purity, packaging, and labeling matters.
In other words, the providers of products to the government often have little or no ability to deviate from those requirements.
We do find evidence that Lilly provided some kind of motion sickness preventive product. It appears to be the same one you describe in your information. If it is the same, the box provides instructions on how to use the product. We do not know it those instructions are the same as you describe or whether the government may have changed our directions. Likewise we do not know what military personnel would have told others about how to properly use the product.

December 6, 2010
Page 2

We find no specific information about the makeup of the product itself. However, the box does contain language about the presence of a sedative and the proper way to use the product. It also clearly notes that taking the product to excess can cause drowsiness.
Thanks for your interest in our war time products and the Lilly effort to support the Armed Forces during World War II.
Very truly yours,

Greg Kueterman
Corporate Communications
Eli Lilly and Company

GAK:cmp

(For the original letter, click here)



U.S. Military Dramamine
On the same online auction site where we had purchased the Motion Sickness Preventive pills, we noticed the sale of an unopened box of US Army issue Dramamine. These are the photographs which accompanied the auction:
(click on the images to enlarge)
Judging from the use of the more modern inner push-through tin foil strip, we assume that these tablets are post-World War Two. We also think that Dramamine was not issued to the US military until after World War Two.

Literature on Sodium Amytal, Scopolamine Hydrobromide and Atropine Sulfate
Sodium Amytal / Amobarbital
5-ethyl-5-(3-methylbutyl)-1,3-diazinane-2,4,6-trione
C11H18N2O3

In several (online) publications Sodium Amytal is described as a type of medicine called a barbiturate derivative. It causes drowsiness and is used to induce sleep. Some side effects of overdose include confusion (severe); decrease in or loss of reflexes; drowsiness (severe); fever; irritability (continuing); low body temperature; poor judgment; shortness of breath or slow or troubled breathing; slow heartbeat; slurred speech; staggering; trouble in sleeping; unusual movements of the eyes; weakness (severe). Death can result.

In 1994, 50 years after the Battle of the Bulge, PBS, in co-operation with Lennon Documentary Group, The American Experience and WGBH Educational Foundation released the documentary "Battle of the Bulge".
Several veterans of the Battle in the Ardennes in December 1944 and January 1945 were interviewed; among them Harry W.O. Kinnard, battalion commander in the 501st Parachute Infantry Regiment.
These are fragments of the transcripts of some of the veteran interviews in that documentary:

Ben Kimmelman, Captain, 28th Infantry Division:
"People who were not necessarily severely wounded but who were no longer in charge of themselves, they would put them in a detachment or an installation to put them through a kind of a very quick and dirty process in which they were given sodium amytal or one of these other-- it's a sort of a truth serum-thing, but it was in the form of tablets. And this would give them a very deep, deep sleep, sort of almost a trance-like sleep for 24, sometimes or 48 hours.
During this time, the enlisted men and myself would sometimes go by. We had to supervise it, because there'd be screaming and they would be deep, deep asleep and there'd be terrible expressions of their fear and their fright."
[...]
"The assumptions were that this would have some kind of cathartic effect, the sodium amytal, which the men called '"blue 88's." You know, the most effective artillery piece of the Germans was the 88 and this was ''blue 88's,'' because the sodium amytal was a blue tablet.
And then they would-- they would come out of this in, depending on the dosage, 24, 48, 72 hours, and they'd be walking around, completely numb. Sometimes they would be slipping and falling. That took a few more hours. And then they would be given a shower, new clothes and a pep talk and the attempt was made to send them back. I say the attempt because it didn't always succeed. They weren't suitable to be returned.
And in a sense, the thing that repelled me so badly was that you were talking to men who weren't quite yet still in charge of themselves and you were sort of shepherding them back to the front.
And one time, the chief of staff asked me to go out and talk to them. He said, ''You're good at that, you go out and talk.'' I said, ''Colonel, I really don't want to do it.'' He said, ''I know, Ben.'' He said, ''Do it, anyhow.'' And I went out and I tried haphazardly to try to get them-- to persuade them to get in the trucks and go back. They'd finished with their 72 hours, they'd gotten their clothes, and they just looked at me. And half of them looked as if they couldn't focus.
And finally one of them said, ''Don't you guys understand? If you can still walk and see, they'll keep shipping you back.'' So I didn't do that again, and I told my commanding officer I wouldn't."

Scopolamine Hydrobromide
(-)-(S)-3-Hydroxy-2-phenyl-propionic acid (1R,2R,4S,7S,9S)-9-methyl-3-oxa-9-aza-tricyclo[3.3.1.02,4]non-7-yl ester
C17H21NO4

Scopolamine, also known as hyoscine, is a drug obtained from plants of the family Solanaceae (nightshades), such as henbane or jimson weed. Scopolamine is named after the plant genus Scopolia. The name "hyoscine" is from the scientific name for henbane, Hyoscyamus niger. The scientific formula is C17H21NO4 .
The drug can be highly toxic and should be used in minute doses. As an example, in the treatment of motion sickness, the dose, gradually released from a transdermal patch, is only 0.33 milligram of scopolamine per day.
Note that each one of the Motion Sickness Preventive tablets contained 0.2 milligram. If the instructions on the outside box is followed to the letter ("Take one 30 minutes before and one at the time of embarking. Then take not more often than every four hours.") within 24 hours at least 6 tablets can be digested. This means a dose of 1.2 milligram; more than three and a half times the dose which is advised today.
An overdose can cause delirium, delusions, paralysis, stupor and death.

Scopolamine is used criminally as a date rape drug and as an aid to robbery, the most common act being the clandestine drugging of a victim's drink. It is preferred because it induces retrograde amnesia, or an inability to recall events prior to its administration or during the time of intoxication.

Atropine Sulfate
(8-methyl-8-azabicyclo[3.2.1]oct-3-yl) 3-hydroxy-2-phenylpropanoate
(C17H23NO3)2 H2SO4 H2O

Atropine is extracted from the deadly nightshade (Atropa belladonna) and other plants of the family Solanaceae. It serves as a drug with a wide variety of effects. Being potentially deadly, it derives its name from Atropos, one of the three Fates who, according to Greek mythology, chose how a person was to die.
The most common atropine compound used in medicine is atropine sulfate

Generally, atropine lowers the "rest and digest" activity of all muscles and glands regulated by the parasympathetic nervous system. This occurs because atropine is a competitive antagonist of the muscarinic acetylcholine receptors. Therefore, it may cause swallowing difficulties and reduced secretions.
Compare this with Lt. Jim Allen's account on page 72 of George Koskimaki's D-Day with the Screaming Eagles: "[...] when I tried to call him, my mouth was so dry and my tongue was so thick that not a sound came out. I couldn't talk!'"
In overdoses, atropine is poisonous. Atropine is sometimes added to other potentially addictive drugs; abuse of those drugs is then prevented by the unpleasant effects of atropine overdose.

1944 Article by George Holt, US Army Medical Department
Also through the same US Militaria Forum member as the article from Modern Packaging Magazine, Mr. Dustin Clingenpeel, we received an article written by Lieutenant-Colonel George W. Holt of the U.S. Army Medical Corps.
The article describes the military need of motion sickness preventive medication.
Holt gives an example: "The occurrence of vomiting in one individual in a glider may result in nausea and vomiting in other troops in the same glider."
In light of our research, these phrases are of interest: "A drug has not be found which is a specific for motion sickness. Those which have been used are thought to be about 50 per cent effective. The use of depressive drugs, if over done, would result in combat inefficiency. It therefore is necessary that careful experimental investigation determine that the dosage of the drug used does not interfere with combat inefficiency.[...]The mechanism of action of the hyoscine-scopolamine group has not as yet been exhaustively investigated. It is known, however, that this group acts as a depressant."
This is the complete article:
(Click on the images for the complete article)
1945 Article By Lieut. Joseph L. Lilienthal, Jr., MC, USNR, Naval School of Aviation Medicine
Dustin Clingenpeel also forwarded an article to us, published in 1945, titled "The Effect of Hyoscine on Airsickness".
In the closing discussion of the article a Lieut. Col. Harwell remarked: [...]"We have no way of knowing, as the Doctor brought out, how long the effect of one dose of scopolamine would last, because we know scopolamine is eliminated in two ways. Thus we prepared our doses to give them every two hours. The effect of one dose would not last more than two hours.
The second fact is that in very hot weather you get a severe reaction. In other words, if you give a little larger dose you may run the temperature up to a hundred and three and four, where the thermometer registers ninety five or one hundred degrees, you may be amazed to find that the baby is born with a temperature of one hundred and three.
So, I think in desert warfare or hot climates it might be well to check on the length of time it will prevent air sickness.
In obstetrical work we do a skin test where we inject 1/100 thousandths under the skin to determine how much of a reaction you will get.
For instance, in many of the patients we find that there will be a reaction, and there will be an extensive area of redness around the site of the intradermal injection, and those are the patients with whom you will have to go a little slower in giving the drug.[...]"

These remarks lead to the conclusion that the effects of the 'ingredient' Hyoscine/Scopolamine may differ from soldier to soldier. Also the temperature of the soldier's body and of his environment may influence the effect of the drug. Most of the airborne men who jumped on D-Day had had their paratrooper training in sizzling hot Southern states, such as Georgia and North Carolina. They were used to parachuting and maneuvering in a hot climate. On the other hand, they had spent the entire year before D-Day in damp England. Also they had never taken the motion sickness preventive tablets before.
These circumstances may have contributed to the occurrence of the drug's side effects.
This is the complete article:
(Click on the images for the complete article)
After the war, the U.S. Military was more careful to mix all three substances into one tablet. The choice was made to use the more dependable ingredient Scopolamine Hydrobromide. Also a caution in stronger words was printed on the package as this postwar box of "Sea Sickness Preventative" shows:
(click on the images to enlarge)
Conclusion
We have established that the Motion Sickness Preventive tablets issued to the US Army paratroopers who jumped in the night before D-day, did not contain Dramamine.
Instead, they contained a barbiturate which, in quantities as high as the contents of two of the standard boxes issued to these troops (a total of 12 tablets), can be deadly.
It also contained substances that can easily be taken in an overdose causing deliriums or impairing the speech.
When digested in the amount of the content of one box (six tablets) it will at least have effects that are undesirable to men in combat, who have to be alert when dropped behind enemy lines during the night.
Also, the instructed dose on the tablets' package is not generally suitable to all users, as various circumstances can influence the effects of the tablets.
In worst scenario's, the tablets will cause combat ineffectiveness.
It is highly questionable if the U.S. Army has conducted sufficient research prior to giving the manufacturing contract to the pharmaceutical company and before issuing these tablets to paratroopers.

This makes the following recommendation in the 326th Airborne Medical Company's Annual Report for the year 1944 remarkable, to say the least: